Dear Managers,

We just had our first cup after engine upgrade last Sunday. Congrats to eMasterVin for being the first Champion after engine upgrade. 

Learn from Pro Players Stream
10 Pro players were invited to this Cup and they had great performances in their matched.
Managers invited: eMasterVin, RBxA13x, Old, P3rlisTeAmJr, Hanzo, JohnMalaya, twy, JWPxOne7 and JWPxZero8
If you feel a bit lost for the new engine, you may get some tips from them. 
Players 
Each manager can draft 1 WB player, 3 X TOTS, 06WC, 08E, 10U, 14WC and Current season player, 2 X the rest season players. The rule is that once you draft a player from 1 specific season, you cannot draft the same player from other seasons. For example, if you draft a WB Ronaldo, you cannot draft other season Ronaldo.
Below is the list of their player choice for their first squad. 
We list all the players with more than 2 picks blow. 
Note: Some of the FW was actually put on MF position based on a manager's formation. 
From the table above we can see, CR7 is still the most popular FW after impact engine upgrade. 
L.Messi becomes the 2nd popular player among FWs. His 5 star skill moves is more useful after the impact update.
On the contrary, D.Drogba, Ibrahimovic become less popular. Strength is no longer the first consideration while picking FWs.
The 2 Germany FW Klose and Muller have high attributes in Finishing, Positioning and Reaction. 
These may help managers find better chance of shooting.
For MF, CDM becomes even more important after the impact engine upgrade. Pogba, Essien and Matic are all good CDMs.
Being the best RWB, Bosingwa was picked by 8 managers. Sergio Ramos, N.Vidic, D.Alaba and Pepe remain popular after impact engine upgrade.
Formation
6 managers used the most popular formations before Impact Engine Upgrade - Formation 4-1-1-4
While 4 other managers use other formations with more MFs.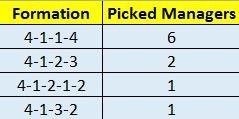 However, most of the managers use 4-1-1-4 formation got eliminated at earlier stage. Only PerlisTeAmJr made it to the later stage.
It seems that the formation 4-1-1-4 do not work that well after engine upgrade. 
Below are the player picks and formation from the champion eMasterVin. 
He win Champion with the system default formation 4-1-2-1-2.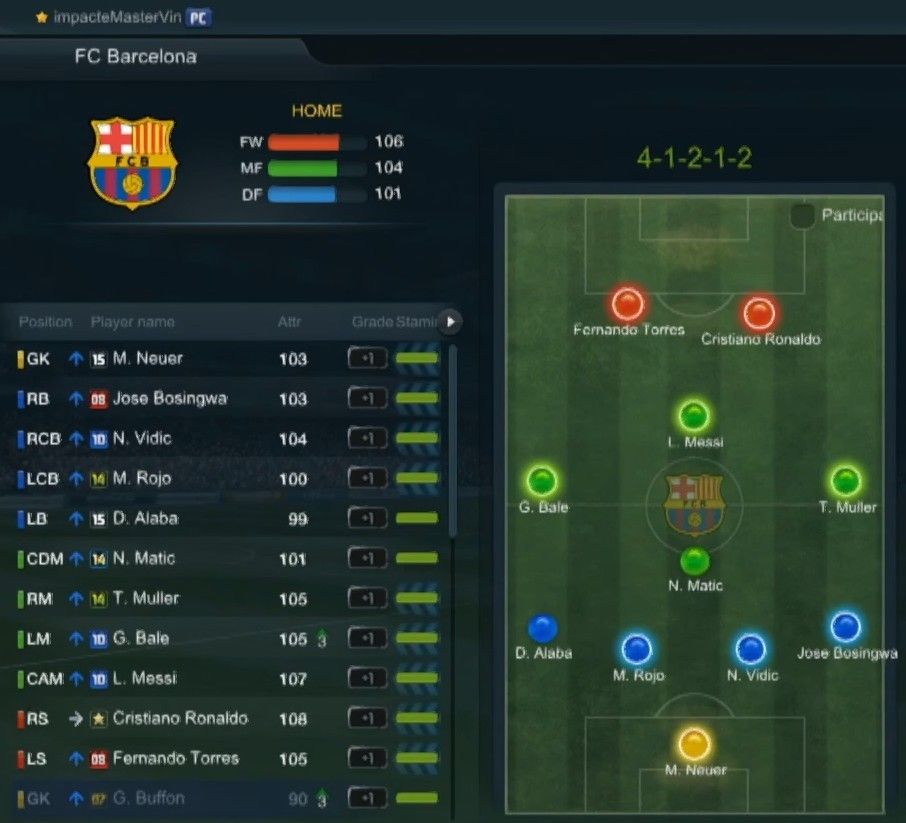 eMasterVin's Formation
---
FIFA Online 3 Operations Team