FIFA Online 3 Liga Cyber Malaysia: Matchday 6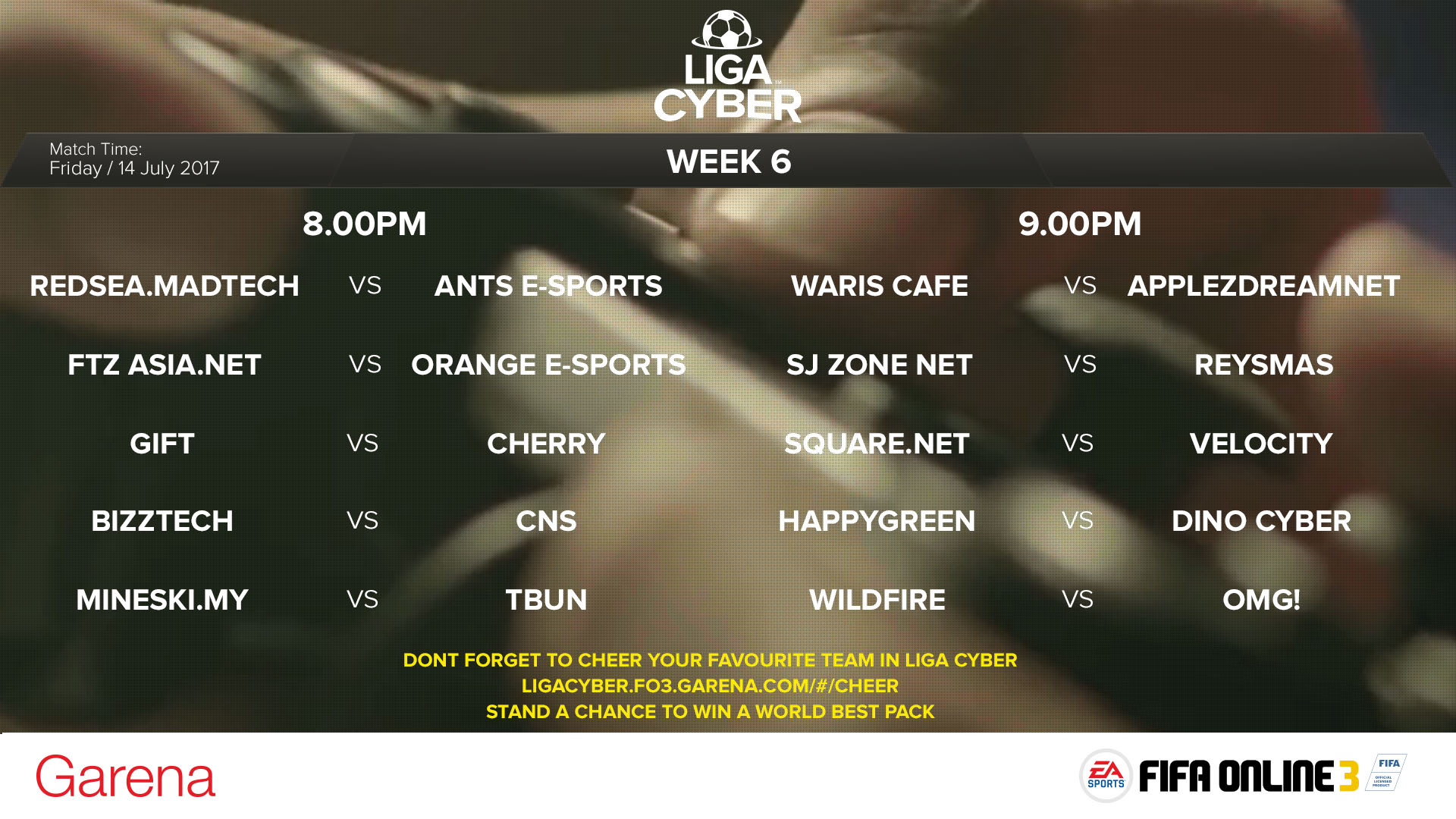 Reysmas.net created the first shock of the season when they managed to overtake Orange Esports to take over the lead in the league table in Week 6 of Liga Cyber. Despite staying unbeaten, Orange Esports slipped up by not winning all 3 of their matches this week. This result allowed Reysmas.net, who was 2nd in the table, trailing only by goal difference, to capitalize and overtake Orange Esports in the table. However, Orange Esports will be able to regain their lead if they beat Reysmas.net in Week 12.


The league table saw a lot of movements coming out of Week 6 with teams such as Redsea.Madtech, GiFT, ANTS Esports all moving many places in the past few weeks.
OMG! continued their slum as they lost yet again, this time to Wildfire with a score of 1-2, their only point coming from their captain Favlain, who had to scrape a penalty shootout win over Gozu.
Last season's runner-up Happy Green Internet Café is also struggling to string wins together as they lost to Dino with only Rammesh coming out unharmed. Their sister team, Square.net are doing slightly better this season as they continued their consistent showing with a 2-1 victory over Velocity.
SJ Zone Net is taking over the mantle of Liga Cyber's whipping boys from CNS as they lost 0-3 to Reysmas.net, which resulted in Reysmas' climb to the top of the table.
Mineski.MY climbed out of their slump with a 2-1 win over Tbun where AEI0U and Quiny contributed the two points needed to secure victory. Tbun will hope to reverse their fortunes come Week 7 as they showed promise just two match days ago where they were sitting near the top of the table with the big boys like Reysmas.net and Orange Esports.
Match Day 7 will return on the 28th July, giving way this week to EA Champions Cup Summer 2017 where 3 players from Liga Cyber will be representing Singapore and Malaysia in pursuit of glory in Guangzhou, China.
In the meantime, users can all still collect cheer points by collecting wins in game.
The full results of Match Day 6 can be found here. 
To view the updated league table and MVP award standings, you can visit http://ligacyber.fo3.garena.com/
#JomInternet Your Way with Digi Prepaid. Enjoy 2GB for only RM3/day