Dear Managers,
The day you have been waiting for is here! After another great season of Kaki Bola Clash, Season 3 is coming to an end. We, hereby, present to you the Kaki Bola National Championship (KNC) Season 3 Finals.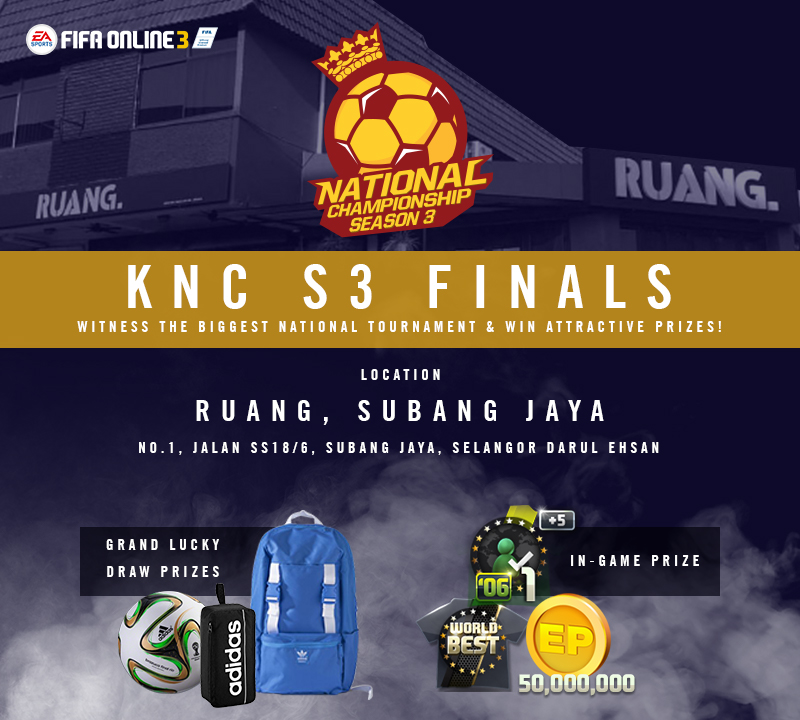 Top 4 players from different states in Malaysia will battle it out to clinch victory and be crowned the Champion of KNC. 
DETAILS OF THE EVENT
    Date: 17 July 2016
    Time: 12PM to 6PM
    Venue: Ruang, Subang Jaya
    Address: No. 1, Jalan SS18/6, Subang Jaya, Selangor Darul Ehsan
    Live Stream Link: http://live.garena.com/fifa-online-3
    Event Link: CLICK HERE
There will be giveaway prizes and lucky draw prizes for event goers. F&B will be provided as well.
Come to the event on 17 July 2016 to show support for your fellow Manager friends, and also minggle around with others managers. Not only that, but we also have exciting activities for you! Hence, do not miss this chance! 
We hope to see you there!