Dear Managers,
There will be an update for Fantasy Cup - Road to China Malaysia Qualifier selection.
We have decided to increase qualifers from certain states based on thier KBC performance.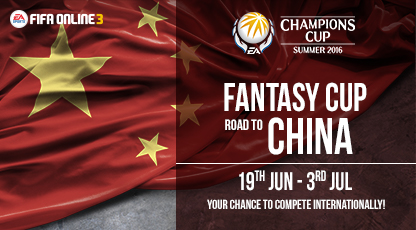 TH intercontinental representative, RBxArroyos, and previous KNC Champion, UltrasKedahXI, will be invited to Round 3. 
Other managers need to play 3 rounds.
Round 1:
Top KBC players and previous KNC players will be invited directly. 

Date: 19th June, 2016

Time: 1:00 PM to 5:00 PM
Venue: Please pay attention to your corresponding KBC FB group. Our CR will announce the venue in each state. 
Format: Single elimination 1v1 BO3
Qualifiers:  
- 6 KL/Selangor
- 3 Penang
- 2 Perak
- 2 Kedah
- 2 Terengganu
- 2 Perlis
- 2 Pahang
- 2 Johor⁠⁠⁠⁠
- 1 N.Sembilan
- 1 Melaka
- 1 Kelantan
Round 2: 
Date: 26th June, 2016
Time: 1:00 PM to 7:00 PM
24 managers from Stage 1 will be divided into 6 groups to play round robin. 1v1 BO3

Top 1 manager from each group qualified for the finals.
Round 3:
Date: 3rd July, 2016
Time: 1:00 PM to 5:00 PM

2 pre-invited managers + 6 managers come from stage 2 play BO2 round robin
Each match will be 6 minutes with extra time and PK.
Tournament accounts will be provided, each account will contain 100 current season top players, level 20 grade 1. With some EP and other necessary items.
Qualified: Top 4 managers will qualify. The champion will be the leader of the team of 4. 
*Our CRs will post updated info in related FB group. Please pay attention.
---
FIFA Online 3 Operations Team