Dear Managers,
After 2 weeks of exciting matches, we have our Top 8 managers from SG and MY to compete in the Fantasy Cup - Road to China Finals!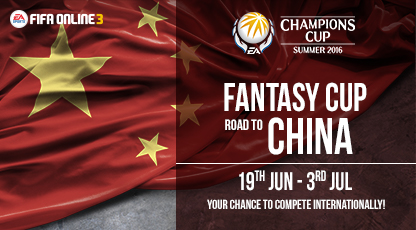 FANTASY CUP FINALS DATE
Singapore:
2nd July 2016
1PM to 5PM
AlienwareArena China Town
Malaysia:
3rd July 2016
12PM to 4PM
PLAYERS
SG: twy, Hibidi, Monehhh, Lyonna, Zarate, Fardhino, Amraan, and Javs
MY: RBxArroyos, eMasterVin, RFxUltrasKedah, Wintersss, RippedJean, RBxA13x, Flashx, FavLain
SG Bracket - http://challonge.com/rtcsgfinal
MY Bracket - http://challonge.com/RTCstage3


FORMAT
- The match format will be BO2 Round Robin
- Managers who win 2 matches in a single round will receive 3 points.
- If the result is a draw, both managers will receive 1 point each.
- Top 4 managers in each region with the highest points will qualify as SG/MY representatives.
- Tournament accounts will be provided with 100 top players of the current season, grade 1, level 20. 
LIVE STREAM
Date: 10th July 2016 (Sunday)
Time: 11AM to 5PM
Link: http://live.garena.com/fifa-online-3
---
FIFA Online 3 Operations Team